---
Our Purpose

Ranchito Libertad is a very small farm dedicated to breeding and training Warmblood and Warmblood-Arabian cross sporthorses. We are located in Sierra Vista, Arizona, approximately 1.5 hours southeast of Tucson. Our goal is to breed athletic, elegant, horses with both talent over fences and correct movement for dressage.

Meghan Ryan


The Horses
---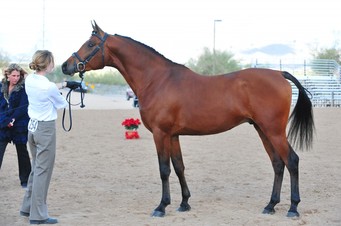 Caravagio is an extremely athletic son of the esteemed stallion Gazal al Shaqab and out of a stunning, correct, big moving, daughter of QR Excel. He is a great opportunity to breed to a stallion with the elegance, type, and reliable genetic heritage of the most esteemed lines of classic Arabian horses while also obtaining the size, bone, and movement needed to win in the sport horse disciplines. Many people have commented on seeing Caravagio that he would be a great candidate to attend the stallion inspections of the major warmblood registries, due to his huge shoulder, beautiful movement for dressage, and correct form over fences.

Caravagio has been pinned champion or reserve sport horse stallion at a variety of shows, including being pinned Reserve Regional Champion Stallion, ATH, at the 2013 Region 7 Championship show. More importantly, he demonstrated a very professional work ethic and the naturally kind and unflappable attitude necessary in a successful sire of performance horses. Although he is showing at the lower levels as he acquires more miles, he has shown a natural aptitude for piaffe and passage, canter pirouettes, and changes.


---
---
Mares
We have a small herd of high quality, young, mares for breeding, with a focus on Dutch warmbloods. All of our current mares are also performance horses or prospects. We believe that, in breeding horses for sport, it is important for both parents to demonstrate their suitability as riding horses, rather than just the sire. All of our horses are primarily ridden by an amateur and are "amateur friendly". When you buy a foal from Ranchito Libertad, we can guarantee than it comes from a well-socialized mare with a good disposition, and that your foal has been handled almost daily, including being clipped, bathed, and having regular trimming. We will also work with you to ensure that you purchase a young horse with the right disposition to suit your needs, whether professional or amateur. Our mares can be viewed in detail on the Mares page, but here is an overview:
---
Young Stock!

At Ranchito Libertad, "young stock" currently is synonymous with "fillies" and we LOVE our fillies. They range from a new 2014 KWPN filly by the good FEI producer, Negro, to a two-year-old Arabian/warmblood cross by Caravagio. The Negro/Fidermark filly was bred by Legacy USA and we are thankful to them for letting her go! In 2014, Briarfair Boojum delivered a Section B Welsh filly by the grand stallion Gayfield's Call the Cops, multi-National Champion and sire of both sires and National Champions. She is now the smallest and the bravest filly in the herd. Last, but not least, is the 2013 ISR/Oldenburg filly, Holy Moley, by Wild Dance (Wolkenstein II). More information about young horses can be found on the Mares page and the Sale page.



---













We occasionally have a sale horse available. Please see our Sale page for current availability, including both foals and performance horses.

---

Foal Gallery
---
Mascots
Blue Agave Chinaco

Our 30" miniature donkey jack. He is an equine aficionado and loves to play with the horses despite their 9 hand size difference.

---

The mini mares, who we call "The Means" because they are absolutely alpha over any 1,500lb mare! They are Little King's Dream Come True and Roger's HSR Sirs Snow Queen, Uni and Lumi for short. As a bit of trivia, that is "dream" and "snow" in Finnish. As another point of interest, Chinaco is terrified of them!

---
---